A group project with American Eagle Outfitters as a client to find ways to increase revenue, build customer loyalty, and improve the overall experience for customers and sales associates. Based on our findings from user research and analysis, we proposed an environments-based solution built into the pre-existing fitting area to facilitate social shopping and utilize customer downtime.
Team:
Janice Chen, Tina Chen, Michael Liu, Qianhui Sun, & Nicole Wan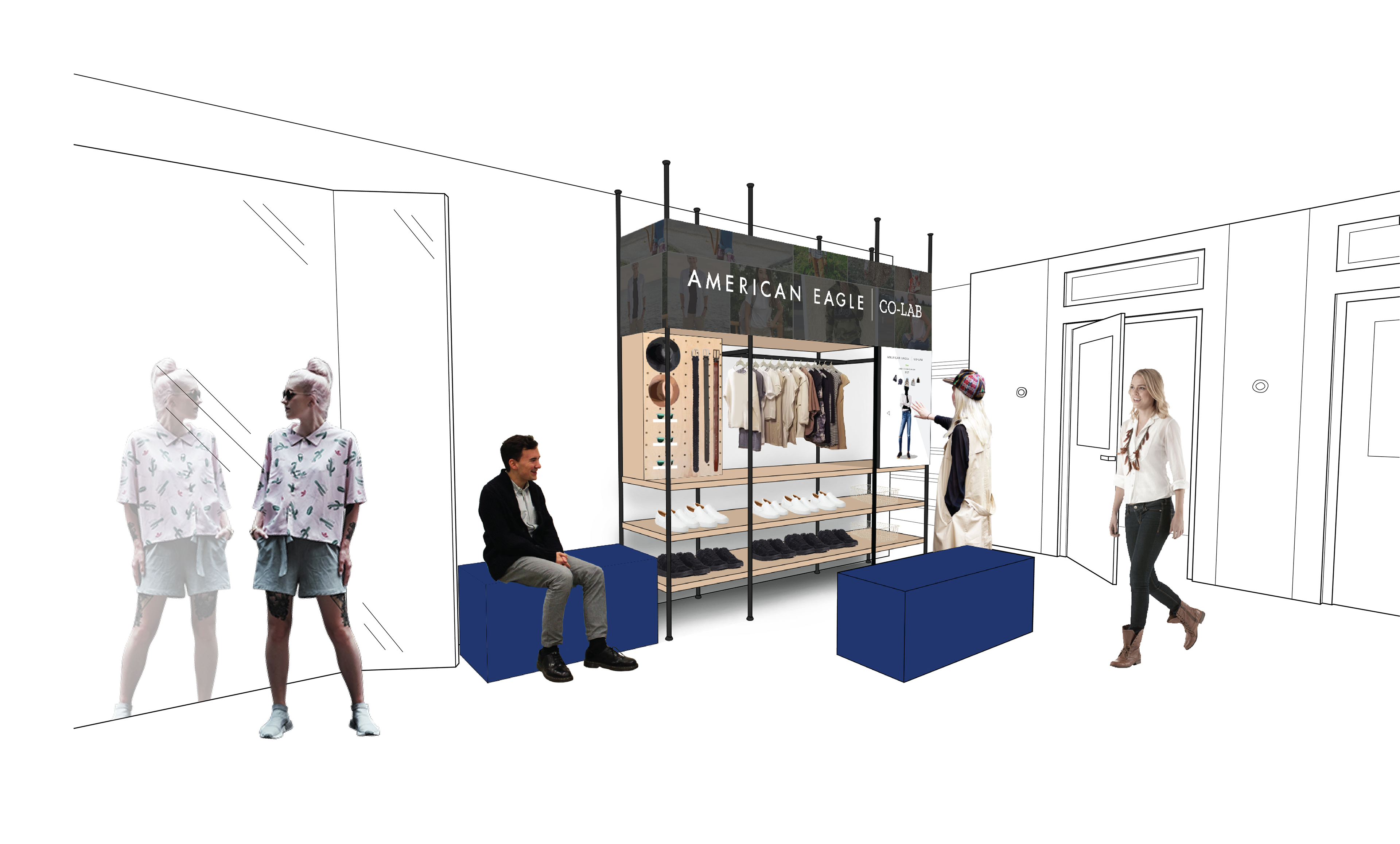 AE Co-Lab: Experiment with Style
The American Eagle Co-Lab is a modular-style accessory wall placed in the fitting room antechamber as a way to encourage customers to try on additional items, see how items may look alongside basic items (black tees, leggings, etc.), and encourage the shopper's companions to be a co-creator of style. A low-risk intervention, the Co-Lab simply reorganizes the store's stock to be in a more effective location, utilizing any downtime a potential customer may have in the store and providing room for expansion to digital platforms. The Co-Lab is also meant to play off of the company's recent AExME campaign that speaks to its messaging of individuality and confidence.
A customer can either bring accessories from the Lab into their fitting rooms, or if they arrived with friends or family, the shopper's companions can explore style options as they wait and potentially encourage the shopper to try pieces they may not normally look at.
As a possible digital expansion and tie-in to the AExME campaign, customers who use the Co-Lab can submit a selfie of their styled outfit to the #AExME hashtag, and potentially see their photograph on a live feed that AEO currently features on their website.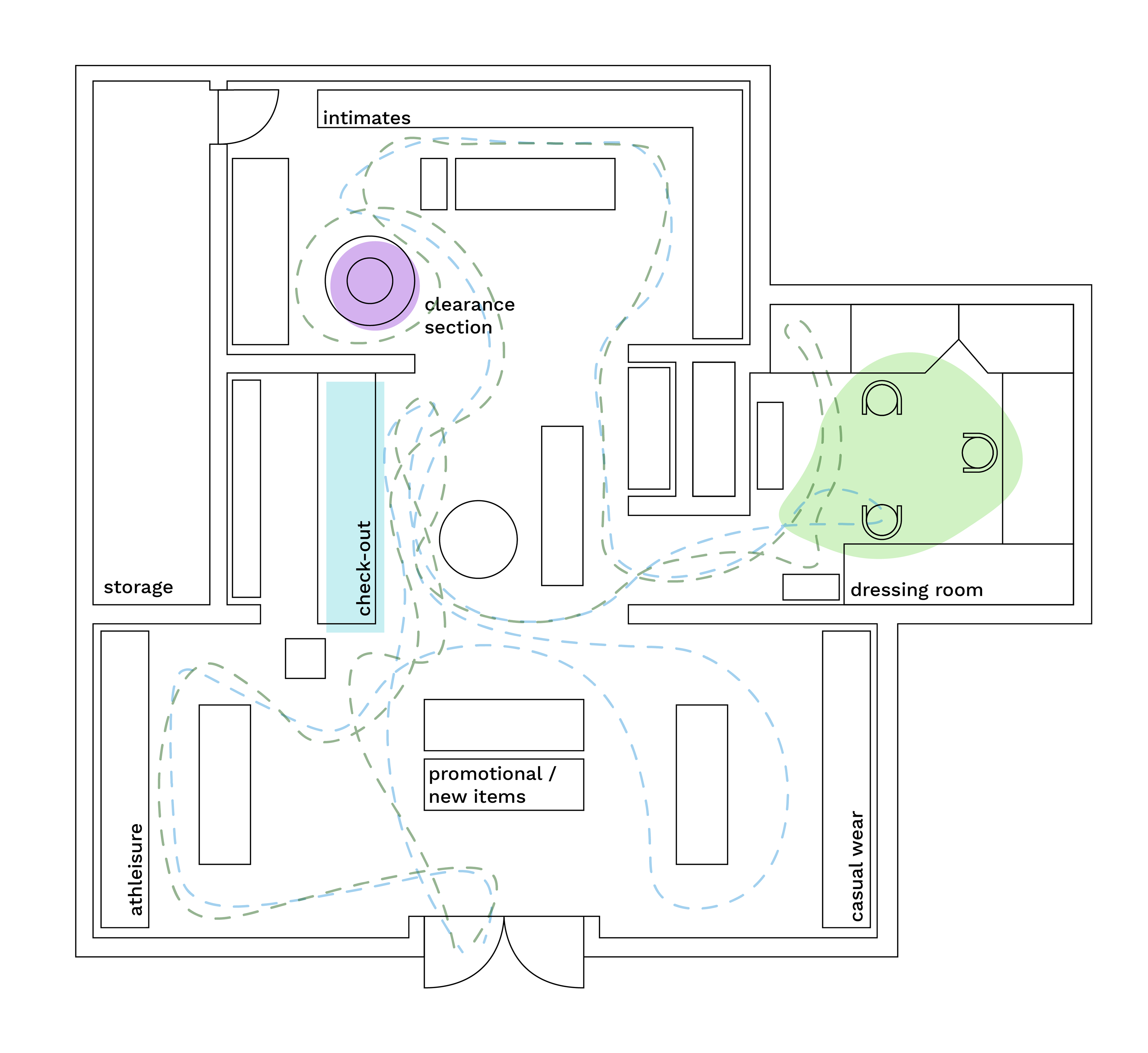 Primary Research
Initial research involved several visits to American Eagle and Aerie locations in the city of Pittsburgh to understand store layout, overall customer experience, and sales associate practices. We also conducted research on curren
t and emerging trends in the retail industry, as well as directly surveyed AEO's target audience of young adu
lts.
Space
The store's layout is intended to get you to wander throughout the store, but that design intent doesn't carry over while waiting outside the fitting rooms. At one location, items on display outside the fitting room were larger items like shirts and pants, and were already shown in other parts inside the store.
System
Checking inventory and handling returns can cause some issues for associates, where it may say something is in stock but they're unable to find it in storage.
Industry
General decline in foot traffic in malls and preference for online shopping. As a response, retail has made efforts to make customers feel like part of an "in-group" to draw them in to shopping in physical spaces. Non-traditional membership benefits, curation, and personalization are ways in which traditional shopping is attempted to be turned into an experience rather than an exchange.
Audience
For AEO, an individual who is in the physical store is often shopping in a mall-like context—meaning that the store is one of several being visited, and those shoppers are often with at least one other person. They aren't necessarily looking for a specific item, and would rather interact with each other than seek advice from an associate.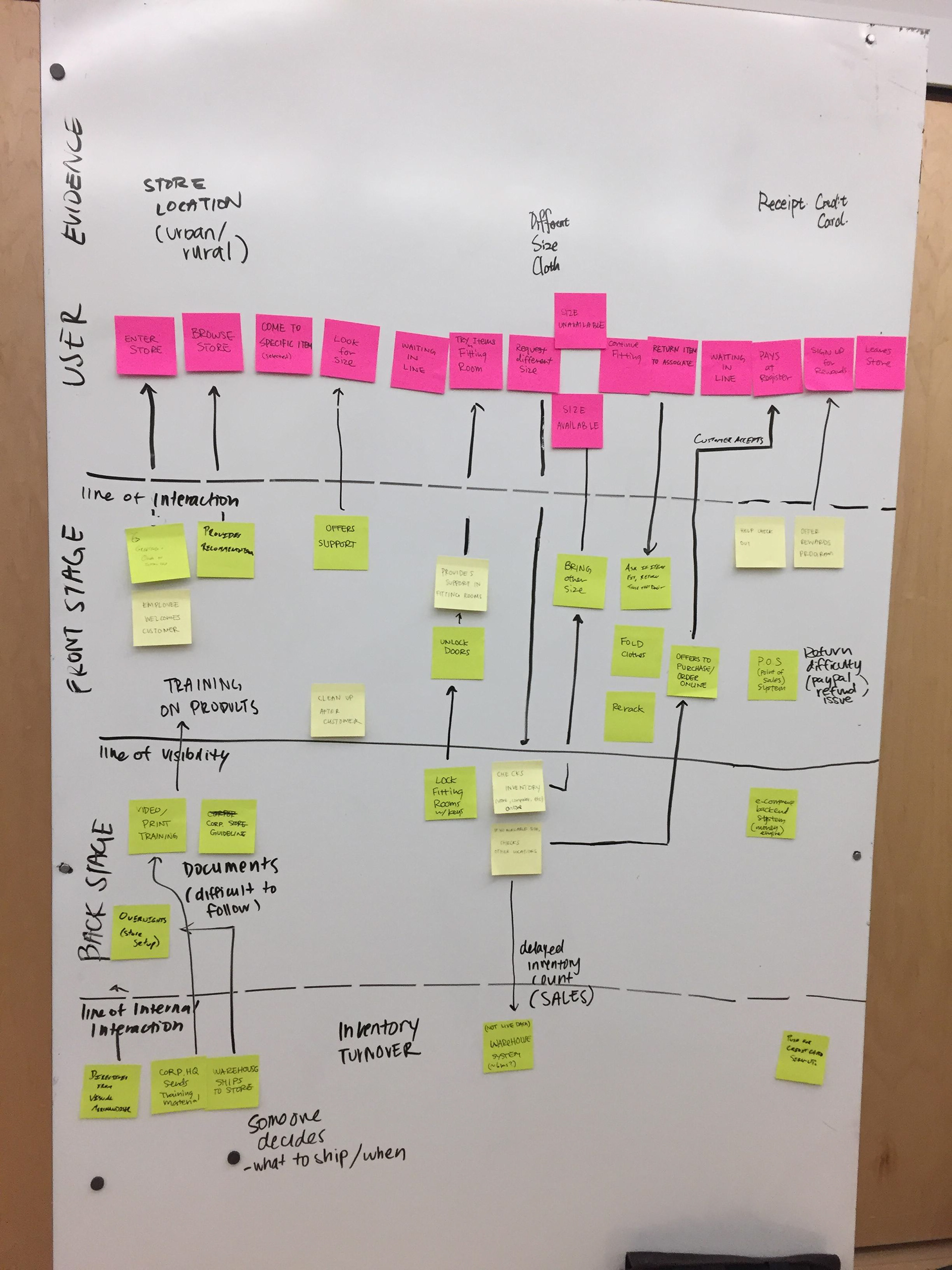 Current State
To better understand where we wanted to take AEO, we took a moment to flesh out exactly where the retailer is now, and what the overall business flow look like in both the front- and back-ends. Journey mapping, customer blueprints, and stakeholder maps were key to articulating the complex relationship of customer, associate, and corporate entities.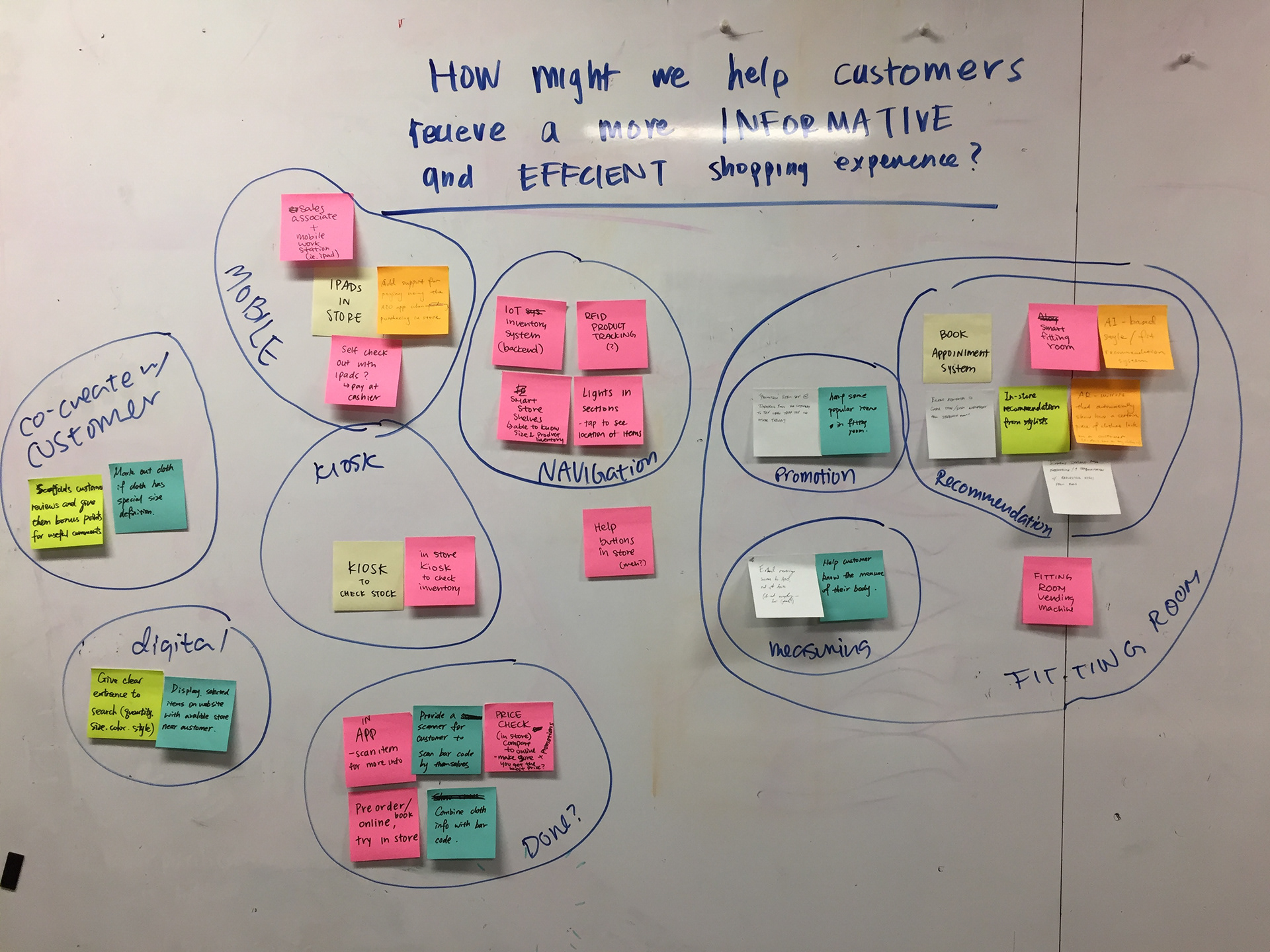 Potential Problem Spaces & Speed Dating
Before arriving at AEO Co-Lab, we were focusing on the in-store inventory system, but ultimately moved on due to us lacking access to information necessary to make appropriate suggestions for intervention. Several variants on styling services were also explored and shopped around to target audience members, however the dissonance between how people perceive the American Eagle brand and how they see styling as high-brow rendered them ineffective. However, it's because of that feedback that we shifted our focus to enabling the customer and those they trust to style one another.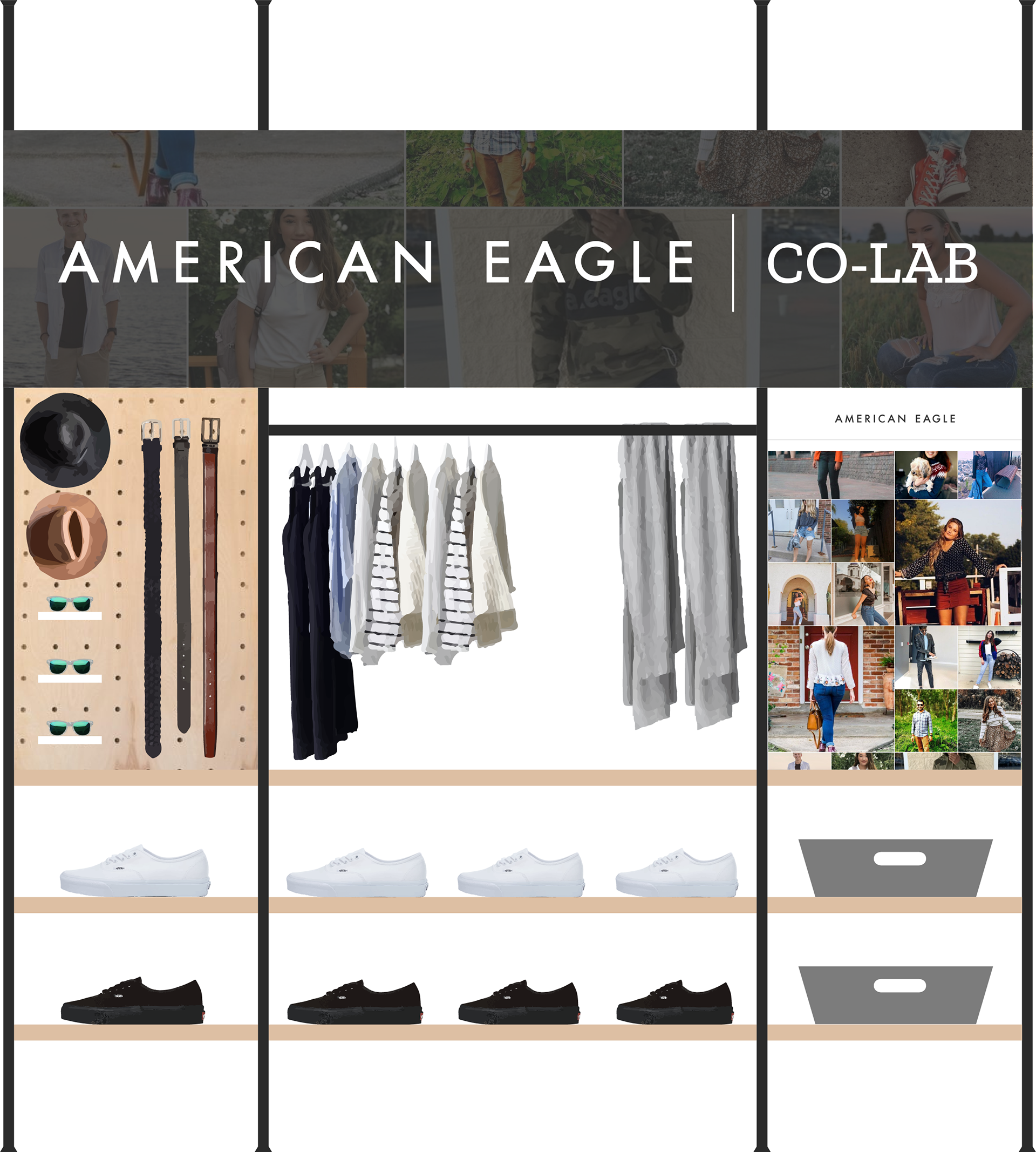 Developing the Co-Lab
Because every store's layout is different, the Lab is meant to be modular in form, as well as able to repurpose any existing shelving in that area. We noticed that items displayed in the fitting room antechamber were rarely touched, and they were items that were already on display elsewhere in the store.
Featured accessories are ones that don't have packaging and can be easily put on and off—like scarves, belts, and hats, but excluding packaged items like earrings. Several basic "essential" items would be provided as well that are meant for customers to see what a piece may look like with a plain shirt or appropriate shoes—a young woman entering a store in boots may want to see what a dress looks like with flats. All of this is meant to enable the customer to view the items in their best light, and are low-risk for both the customer to try, and for the store to display.